CalceLife Iniezione
Natural, structural, breathable, smooth mortar, based on pure natural lime NHL, for consolidation injections, reinforcement and structural retrofitting of stone, brick and mixed masonry. Ideal for historical restoration and for seismic improvement and retrofitting.
TECHNICAL DATA

APPEARANCE: powder
MAXIMUM GRAIN SIZE (mm): 0,15
YIELD: 1,4 – 1,5 kg/dm2 
PACKAGING: sacchi da 25 kg
COLOUR: beige
MIXING RATIO: 5 – 6 litres of water per 25 kg of powder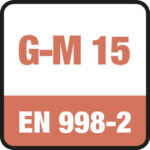 Description
For consolidation injections, for breathable structural reinforcement of historical rubble masonry in bricks, stone or mixed.